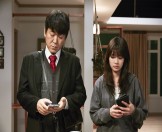 Korean major CJ Entertainment launched a slew of new titles at this month's Hong Kong International Film and TV Market. The distributor added family dramedy Daddy You, Daughter Me, period mystery comedy The King's Case Note and prison-set crime film The Merciless. YOON Je-moon of Mother (2009) teams up with J...
Mar 22, 2017

Karaoke Crazies

Director :

KIM Sang-chan

Cast :

LEE Mun-sik

BAE So-eun

KIM Na-mi

Comedy/Fantasy106min
FINECUT

Drama120min
FINECUT

Drama122min
KBS

Drama126min
Showbox Inc.


NA Hong-jin's THE WAILING produced the highest sales in domestic TV VOD market i...


Various film festivals in Korea have made the highest record in their history. T...