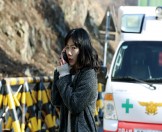 Local Hits Continue to Trump Hollywood Business remained brisk during the heat wave but with school back in session and the high summer season coming to an end ticket sales have begun to slow down at the Korean box office. Local hits remained the top draw, accounting for 71% of the weekend's 3.04 million thea...
Aug 23, 2016

ALONE

Director :

PARK Hong-min

Cast :

LEE Ju-won

Horror/Drama/Crime/T...91min
M-Line Distribution

The Unjust

Director :

RYOO Seung-wan

Cast :

HWANG Jung-min

KIM Seung-hoon

RYOO Seung-bum

YOO Hae-jin

Drama/Crime119min
CJ Entertainment

Drama/Action140min
Showbox Inc.

Drama/Crime130min
Showbox Inc.


Korean Films with the Biggest Opening Score Record of All Time TRAIN TO BUSAN,...


Films to Help You Further Enjoy Summer Holiday It is summer, the season of the ...